Middle Housing Blog
This Week in Housing: Big Decisions Are Being Weighed Across the Housing Continuum
It's a big week in the housing world. Locally, in Bellingham, WA City Council will be hearing public testimony on ADUs. If you'd like to attend, it all starts at 7pm at Council Chambers on 210 Lottie Street. To read what the Whatcom Housing Alliance recommends to improve our housing crisis, go here and read our letter to City Council. The full agenda for tonight's meeting is located here to review. The WHA agrees that we have a housing crisis and the best way to steer us forward is to make practical recommendations that allow for a multitude of housing options across the housing continuum. What is the Housing Continuum? See below for our explanatory graph. WHA Members, from Opportunity Council to KCLT, are working on all aspects of the solution.
There is not one single solution to the housing crisis, which is why it's important that we're making an impact and offering such a wide variety of solutions at all levels. Change at each level, good or not, impacts people where they're at. Solving this crisis is a multi-pronged approach and much of it has to do with education.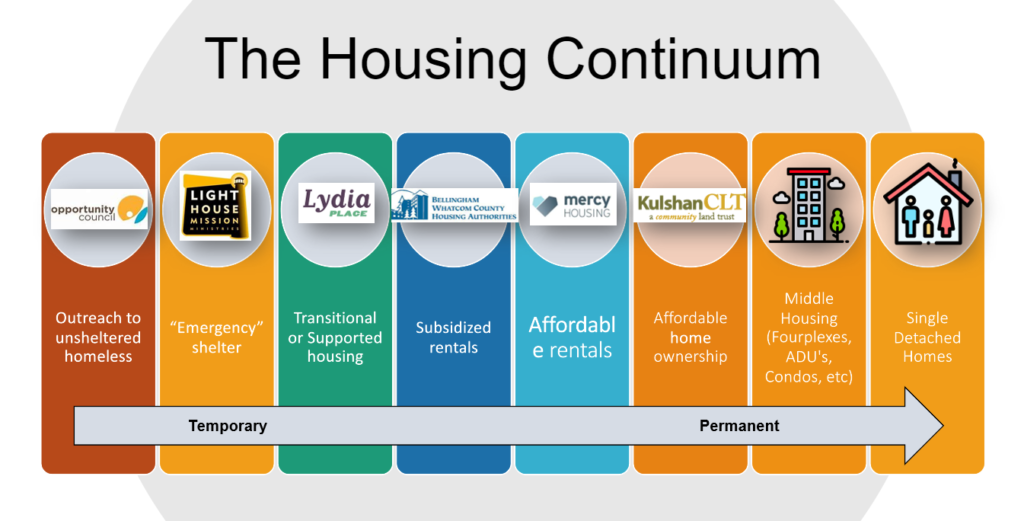 We often hear that ADUs won't solve the housing crisis. We agree. But it is a necessary evolution in response to our housing crisis.
In a way, how we move forward on ADUs indicates our community's readiness to respond to the reality of our housing crisis. Not leaning on ADUs as a solution, does not acknowledge the success that tool has seen in other communities. ADUs are a low lift solution to the housing crisis as we pull up in all areas of the housing continuum. ADUs and Middle Housing impacts our front line workers, aging family members and everything in between.
While the WHA has stands for education on a number of important housing issues, the issue of owner occupancy seems to be the most prescient for Bellingham residents.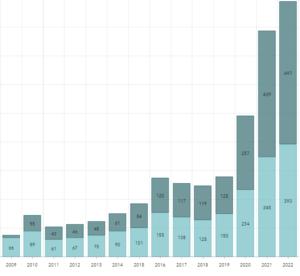 Removing owner occupancy, has proven successful in increasing the housing supply in a number of cities. When California removed the owner occupancy requirement, between 2016 and 2021 there was a 1,400% increase in construction permits. Just last week, Seattle released it's 2022 ADUs report. It showed that since they removed owner occupancy in 2019, the number of permitted ADUs has tripled. In 2022 there were 7,600 housing permits issued.
Looking at the graph, we can deduce that that, similar to California, removing owner occupancy has a direct positive correlation to housing supply. Unfortunately, for as triggering an issue as this is, this is a very pragmatic and incremental tool. The need to educate our neighborhoods and voting public always runs into passionate support for the retention of neighborhood character and concerns about renters and investors. The data does not support this perspective and, while concern grows about the unsubstantiated impact of investors purchasing homes and building ADUs, there are real world impacts to our local population. Further delays on real world solutions impact everyone – everything from the cost of housing, to homelessness are negatively impacted when we throw up more barriers to housing supply.
You can learn more about how housing impacts homelessness by watching last year's Bellingham for Everyone Learning Series with author Gregg Colburn, in the video below.
Further, a new report from the Muljat Group showed that the average home in Bellingham cost $820,000 in 2022 and the average home in Whatcom County was $655,000. The average Bellingham firefighter has a gross monthly income of ~$8,000. The mortgage on an $820,000 home is nearly $5,000, at today's rates. That means they would be paying 62% of their monthly gross income towards a mortgage. A person is considered financially burdened when they are paying 30% of their monthly gross income towards housing.
Why don't they rent? How can they when Bellingham's rental vacancy rates are at historic lows, there's no…supply. We need to offer more tools to our local population.
State Level Housing Legislation
But this week is not just about what's happening in Bellingham. At the state level, in the 2023 legislative session, there are at least 27 housing bills in consideration. Housing is the big issue this year!
But you can have a direct impact on ADUs at a state level TODAY. There will be two bills hear in the House Housing Committee on Monday 1/23/23.
>>Both bills will be heard in the House Housing Committee this Monday, January 23, at 1:30pm. Supporters can sign up to testify at the hearing over zoom, sign in PRO, or submit written testimony.