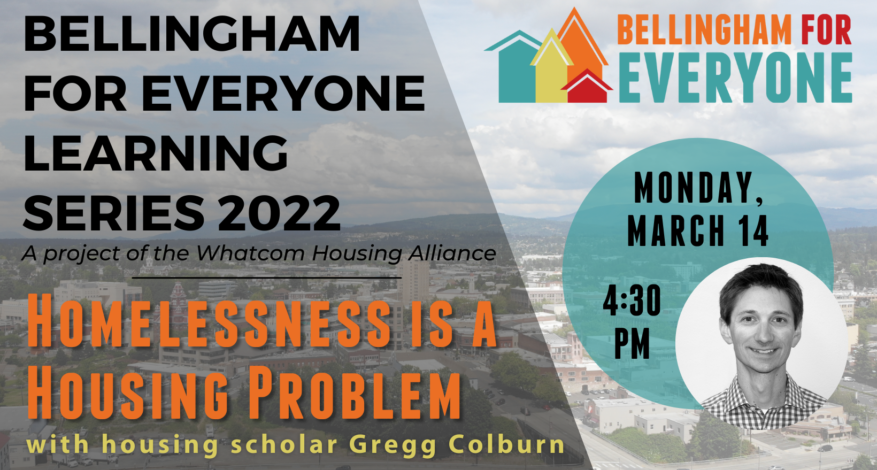 Bellingham For Everyone Learning Series: Homelessness is a Housing Problem
Join Bellingham For Everyone virtual events that keep our Allies engaged, educated, and mobilized! All events are virtual and great for ALL neighbors. By attending a Whatcom Housing Alliance event, you are agreeing to our Events Code of Conduct.
Homelessness is a Housing Problem with Gregg Colburn
In this FREE virtual event hosted by Bellingham For Everyone, we will be joined by housing scholar Gregg Colburn who will discuss his findings in his soon-to-be-released book, "Homelessness is a Housing Problem".
Register HERE
About the Book:
"Homelessness is a Housing Problem: How Structural Factors Explain US Patterns"
It's in the title. In "Homelessness is a Housing Problem", housing scholar Gregg Colburn and date journalist Clayton Aldern seek to explain the substantial variation in rates of homelessness apparent in cities across the United States.
Using accessible statistics, the researchers test a range of conventional beliefs about what drives the prevalence of homelessness in a given city—including mental illness, drug use, poverty, weather, generosity of public assistance, and low-income mobility—and find that none explain why, for example, rates are so much higher in Seattle than in Chicago. Instead, housing market conditions, such as the cost and availability of rental housing, offer a more convincing explanation.
Learn more about his upcoming book at: homelessnesshousingproblem.com
About the Speaker:
GREGG COLBURN is an assistant professor of real estate at the University of Washington's College of Built Environments. He has published research on housing and homelessness in journals like Urban Studies, Housing Studies, Urban Affairs Review, and Housing Policy Debate. Gregg holds a Ph.D. and an MSW from the University of Minnesota and an MBA from Northwestern University. Prior to academia, he worked as an investment banker and private equity professional. Gregg is also a member of the Bill & Melinda Gates Foundation Family Homelessness Evaluation Committee and co-chair of the University of Washington's Homelessness Research Initiative.